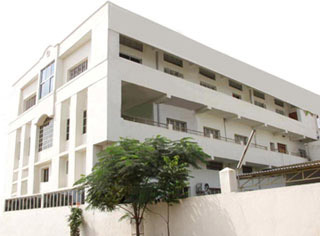 The infrastructures at Spice Tex has marked by a perfect harmony among the various functional units namely Knitting, Dyeing, Elastic, Printing & Sewing Machines. All the units at Spice Tex are well equipped with the latest machinery to keep in pace with the changing & challenging needs of the customers around the world.
Knitting Units.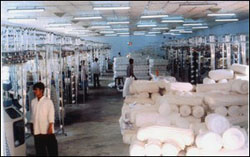 The result, quality and the nature of the product is determined based on the knitting machines, Our knitting unit is one of the role model to all other knitting houses, equipped with high ranked equipments, Our Machine Fabrics following Fabrics type like, Single Jersey , Rib / Inter Lock, Single / Double Jersey Full Jacquard in Mayer & Cie, Lisky, Orizio imported Knitting Machines.
Dyeing Unit.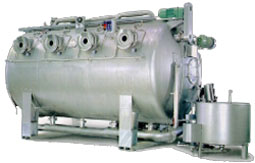 Our Soft Flow dyeing has been doing with the dyers who meet international standards, We use the latest soft flow dyeing machines which maintains a consistent shade through out the fabric. We keep production environment clean and hygienic. We use dyes that are free of azo-dyes.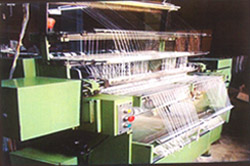 Elastic Units .
The Elastic Knitting Machine Unit fulfilling our total Elastic requirement. It has Maintained by skilled supervisors, even the smallest defect is not overlooked. We always Knit the Quality materials.
Cutting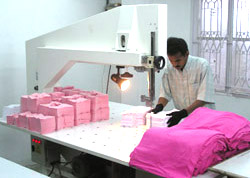 Sections.

Cutting Room is handled both manually (for stripes, Jacquards to get the stripes and design set in side seam) and also mechanically, i.e., Lay cutting of cloth by a cutting master to make consistent and sharp cuts.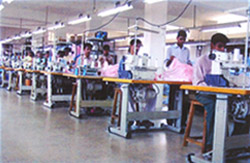 Stitching Sections.
For stitching of garments we have 160 machines. The over lock and flat lock machines are from Pegasus-Japan and lock stitch are from Juki-Japan. All the machines are fixed with auto thread trimmer and dust collector.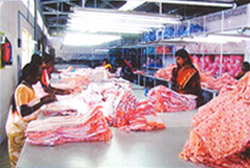 Checking Sections.

The finished garment is then subject to a thorough check by skilled supervisors, even the smallest defect is not overlooked.

Ironing & Pac
king Section.
Pressing is the Final phase of production of the garment, which has been doing with latest machines. The garments are steam pressed and vacuum sucked in order to take away any excess moisture in the garment due to steaming. After pressing the garment goes for final packing.